HIRE OUR SPACE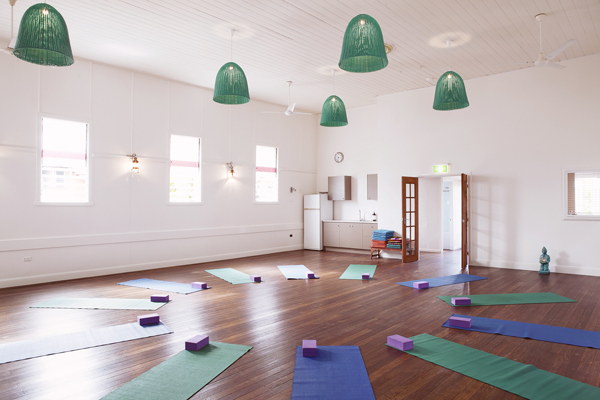 Beautiful venue hire Brisbane
Soul Space Brisbane is dedicated to the embodiment of purposeful living. We invite facilitators to hold events, classes, courses and workshops that promote creativity, healing, personal growth, mindfulness and natural healthy living.
 
WHAT SOUL SPACE BRISBANE PROVIDES (booking inclusions):
o A large open naturally lit space for your event, workshop or course. The space is approx. 88sqm.
o Amenities including: 1 toilet, kitchenette, sound system, air conditioning and heating when required.
o Kitchenette facilities include: fridge, plates, glasses, mugs, cutlery, kettle, urn, tea & coffee.
o You are permitted to bring food & beverage (non-alcoholic) into the premise as long as all cleaning is taken care of and nothing is left in the fridge at the completion of your hire.
o Seminar equipment includes: WIFI internet access, whiteboard, 3 trestle tables (available upon request)
o Chairs x 60 (plastic chair with back and arm rests)
o Cushions x 50
o Optional extra: Projector (available for use at additional cost of $25/day).
o Yoga equipment: yoga mats, yoga chairs, bolsters, blocks, straps, blankets
o You are welcome to leave flyers or brochures about your upcoming event at our space.
o Your event will be listed on our comprehensive website calendar at soulspacebrisbane.com.au if requested.
o The opportunity to share your event on our Facebook page.
o Free and close on street parking available for attendees.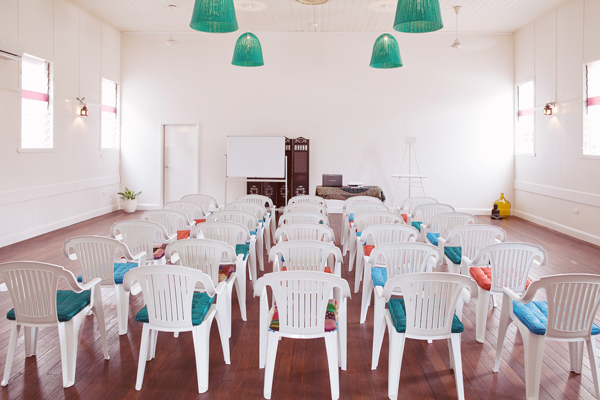 YOUR GENERAL RESPONSIBILITIES:
o Attaching your Certificate of Currency along with this application. You are required to hold public liability insurance for no less than $10 million.
o Whiteboard markers and any other equipment.
o Leaving the space in good condition for the next class/event. Our intention is to keep the space clean, both energetically and physically.
o Ensuring ALL air-conditioning/heating units are turned off. A fee of $25 will apply if air conditioning units are left on after your event.
o Ensuring all lights are switched off & the 'closing procedure' is complete.
o Compensating Soul Space Brisbane for any damage to equipment or premises sustained during the period of your hire.
HIRE FEES & AVAILABILITY all prices include gst
Booking times and fees are inclusive of set-up and pack-up. Ensure you book adequate time.
FULL DAY (8 hours)
Monday – Sunday $240 ($30 per hour)

A full day equals 8 hours use of the space. Each hour exceeding 8 hours costs $25 per hour (30mins over allocated time will incur the full hour charge). Your time booked needs to include set up and pack up.
Please advice prior to booking if you require the space for longer than 8 hours or if you require the space before or after the hours of 8:30am and 5:30pm. These options are all possible so please enquire as to what is available for the dates you are interested in.
Booking time includes set-up and pack-up.
 
HALF DAY  (4 hours)
Monday – Friday (not available weekends) $120 ($30 per hour)
A half-day equals 4 hours use of the space between the hours of 8:30am-12:30pm and 1:30pm-5:30pm.
Booking time includes set-up and pack-up.
 
EVENINGS
Monday – Sunday, 6:00pm – 9:00pm slot $95
Ongoing hire option available (please enquire)
Depending on weekend bookings, Sat & Sun evening bookings sometimes need to be booked 6:30pm – 9:30pm. Please enquire.
Booking time includes set-up and pack-up.
MORNINGS
Monday – Friday, 6:00am – 8:00am slot $55
Ongoing hire option available (please enquire)

FULL DETAILS and CANCELLATION POLICY available in our 'SPACE HIRE AGREEMENT'.
Please email hello@soulspacebrisbane.com.au OR call Jodie on 0403 534 637 to discuss a booking. We would love to hear from you.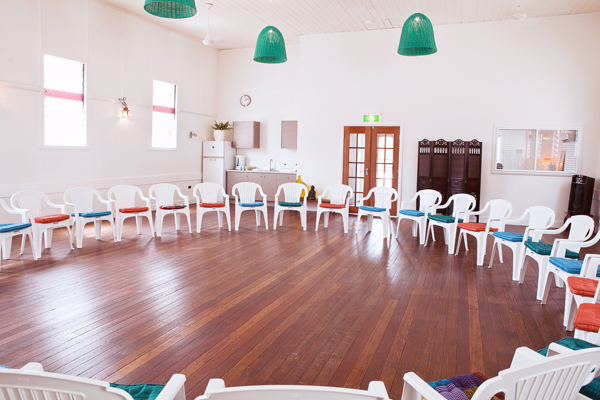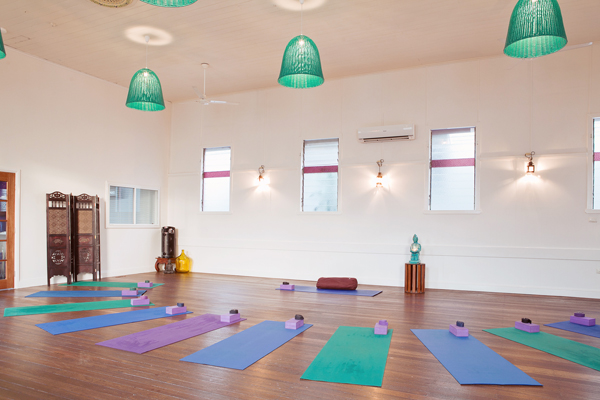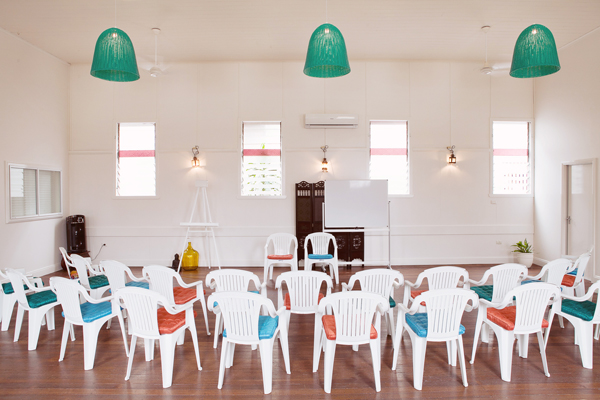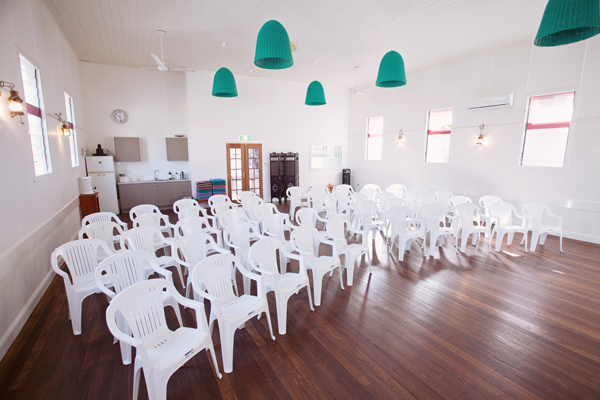 ——————————————————————
Therapy Room to Rent
UPDATE: Jul 2016
From Aug: Wednesday, Thursday, Friday, Saturday & Sunday available for ongoing hire.

We are looking for a select few therapists, lifestyle coach/mentor or consultant who are looking for a beautifully furnished, spacious, inner-city therapy room to establish their business. This opportunity is for a professional who does not want to work from home or work under someone else. This opportunity allows for full freedom to work how you want and therefore requires the up most in responsibility to your business.
NOTE: Casual hire available subject to availability.

IMPORTANT:
The opportunity we are offering is for therapists/business owners who are looking for an inner City space to run their business on a regular therapy room rental basis. We are not offering an employment opportunity.
.

WHAT SOUL SPACE BRISBANE PROVIDES YOU:
The therapy room is not just a therapy room, it is connected with a large and ever growing community of people who are interested in improving their life on all levels. If you hire the therapy room for 2 days or more you will have access to the following:
o  A profile page on our website


o  Permission to use our logo and therapy room imagery on your website/marketing.
o  Permission to leave promo card/brochures/business cards in foyer area.

Casual hire of the room is also available.

THE THERAPY ROOM CONTAINS THE FOLLOWING:
o   Fully furnished reverse cycled air-conditioned room
o   Cupboard space for therapists products and work related items
o   Massage table and comfortable consultation chairs
o   Personal profile and modality description on website and Facebook
o   Ipod dock
o   Bathroom facilities
YOU ARE RESPONSIBLE FOR (PROVIDING/MAINTAINING):
o Providing a copy of appropriate insurances; Public liability & professional indemnity prior to commencement of business.
o Massage oils, towels and sarongs, and other personal therapeutic equipment
o Cash float and EFTPOS machine (if required)
o Personal stationery (e.g. business cards, receipt books, etc)
o Managing your client bookings and payments
o CD player/ipod
o Any personalised advertising and marketing
WE SUGGEST YOU HAVE THE FOLLOWING:
A website that showcases who you are and what you do
EFTPOS facilities
On-line appointment calendar

YOU MUST HAVE THE FOLLOWING:
Professional indemnity and public liability insurance

If this opportunity resonates with you please send us an email including your phone contact details so we can call you to discuss further and email our agreement form.
We look forward to hearing from you.
Please contact Jodie at hello@soulspacebrisbane.com.au to arrange a meeting or receive the full agreement for therapy room hire.