INTUITIVE UNWINDING MEDITATION
6 Week Course, every Wednesday 6pm

WHAT IS INTUITIVE UNWINDING MEDITATION?
Intuitive Unwinding Meditation combines formal seated meditation and specialised movement meditation techniques for emotional release facilitation.  The Intuitive Unwinding process is literally unwinding the body back to its natural, authentic state of being. This unique style of meditation is crafted to unlock natural impulses that are hidden beneath the layers of thought, conditioning and limiting belief systems. It is for those seeking to get out of their own way, move past blocks they feel in self-expression and to feel more connected and at ease with their body. We invite you to begin the intimate and powerful journey of exploring the architecture of your bodymind and connecting back to your true essence.
Prerequisite requirements: To enter the Intuitive Unwinding course you must have completed our beginner course unless stated otherwise by the trainer Chris Knight.
Every Wednesday, 6:00pm – 7.30pm


2018 Course Dates



Book now:
24 Jan – 28 Feb 2018
7 Mar – 11 Apr 2018 

18 Apr – 23 May 2018

30 May – 4 Jul 2018 
11 Jul – 15 Aug 2018
22 Aug – 26 Sep 2018
3 Oct – 7 Nov 2018
14 Nov – 19 Dec 2018

WHAT WILL I EXPERIENCE IN THE CLASS?
You will learn how to:
Activate the bodies natural emotional release mechanism through Hatha Yoga and Tai Chi postures that specifically target key muscles that elicit muscle tremors.

Learn key breathing and sound techniques that engage the intuitive unwinding process

Explore the intuitive unwinding process which supports deep stillness in the mind as a result of releasing chronic tension, stress, anxiety, depression, fatigue and trauma.

Observe thoughts and mental chatter that surface by freeing the bodyminds habitual holding patterns.

Experience formal seated meditation with greater ease after allowing the body to naturally unwind into stillness.

Create new neural pathways that promote physical balance and personal growth.
WHAT DO I DO AFTER THE 6 WEEKS? CAN I CONTINUE?

Yes. Join our growing community of dedicated meditators who join us each Wednesday night at Soul Space. Wednesday evenings are a fantastic accountability opportunity that you can put aside for your meditation practice. Being immersed in a group dynamic and putting aside time dedicated purely to you is conducive to generating solid routines and healthy habits. We package the classes to be sold in 6 week blocks to make it better value for your money as the classes are designed for regular attendance and weekly practice. No two classes are the same.
WHAT MAKES THIS PRACTICE UNIQUE?

Release
Releasing what does not serve you is the inevitable process of growth towards accessing your personal power and deeply understanding yourself. Intuitive Unwinding has been designed to deepen the meditation experience by incorporating bio-energetic neuro-muscular movement to release stagnant, blocked or drained e-motional charge in the body prior to engaging in formal observation meditation practices. This deeply personal practice allows you to tap into your body's natural releasing mechanisms that encourage authentic expression of your bodymind.
Meditation is the pathway to becoming who you already are. It is a form of detoxification, which allows the body to tap into its natural release mechanism to remove held energy and emotions that are clouding our natural impulses to embody the most authentic versions of ourselves. This process is initiated by connecting in with the intuitive flow of your body and becoming the observer of your internal world through breath, movement and intention.
Movement
Movement is the bridge to the present moment. In our day to day lives, our bodies relationship to the expression of the mind is not matched. The unique blend of marrying the breath with neuro-muscular movement allows you to meet your mind exactly where you are, and then wind down into stillness. The mind has its least amount of power over you when your attention is focused on something that is in motion. Breath is used as one of the major anchors among many styles of meditation, as you can watch the movement of each inhale and exhale expand and retract your whole body. This is a powerful counterbalance to get you out of your head and drop into your body! We have found extremely profound results by taking this to the next level through marrying both breath and body movement as the major catalyst of stilling the mind and coming into a state of presence within our bodies. Like an onion, removing its layers, you will unravel parts of yourself through dissipating emotional charge and connect in with your core.
Seated mediation becomes effortless once you drop deeply into your body. You sink into a state of deep connection and presence through preparing the body to sit still after your bodily movements have broken past the superficial layers of the busy and powerful mind. You then reward your efforts of commitment to the process by immersing yourself in the joy and electricity of the simple presence of being alive!
INVESTMENT
6 Week Course Investment: $110
Casual visit available: $25/class (no booking required)
see end of page for payment terms & conditions
WHAT DO I NEED TO BRING?

As a participant of these courses it is a requirement to bring your own meditation cushion. You can try our hand made Zafu meditation cushions on the first night and if you like it you can purchase one from us, see picture and details below. We will provide you the blankets, supporting cushions and bolsters at no extra charge. It is very important your sitting posture is comfortable so please contact us prior to attending if you are unsure of what to bring. See below example. It is important to wear loose comfortable clothing.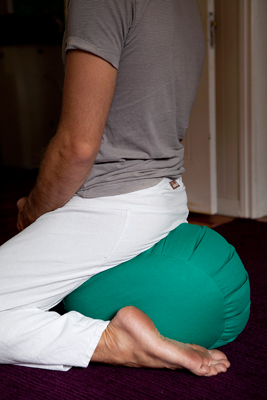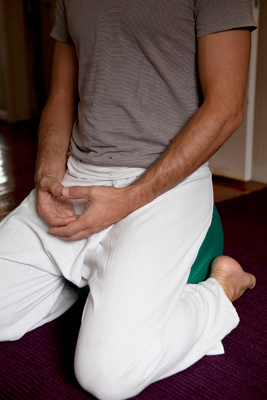 MEDITATION CUSHIONS FOR SALE
'Zafu' Meditation cushions pictured above will be available for purchase during the course. They come in a variety of different colours.
Meditation/Yoga Cushion (Zafu) – Available in a wide range of colours.
They are handcrafted, filled with local organically grown buckwheat hull and have a velcro closure, no insert and come with a built-in handle.
They are available to purchase for $70.
PARKING
Free on-street parking at Parker Street or adjacent Foster Street here in Newmarket.
PAYMENT TERMS & CONDITIONS + TRANSFER & CANCELLATION POLICY
By clicking the 'Buy Now' Button you can secure you place in the course and pay with your Visa, Mastercard or Paypal account.
The price of a 6 Week Course is $110. Positions are secured on a first in best dressed basis.
Within reason a course payment is fully transferable to the following course if issues arise.
Refunds on payments will not be provided simply if you change your mind.
Refunds are not available once the course you purchased for has commenced.
Refunds are not available for individual nights unattended within the 6 week course.
Casual visits are available in the Intuitive Unwinding Class. Casual visits do not require booking and can be purchased for $25 on the night.
TESTIMONIALS
"Intuitive unwinding meditation is the sacred space in my life that brings me home to me. It's my go-to technique now when I feel off centre – allowing me to safely release the emotions that are not serving me. While I use the technique several times a week at home, the Wednesday night sessions are nothing short of magic – as Chris holds space in a non-judgemental and anything-goes way. It's not what you think of when someone says meditation – which is why I love it – it cuts through illusions and bullshit and goes straight to the heart of connection."
– Cherie Pasion
" Connection. This is the process in a nutshell! I feel so connected with my body after experiencing this highly embodied style of meditation. Chris helps facilitate such an organic process of coming back to your body. I have been able to identify patterns of control and holding in my body, and trust myself to let go a little bit deeper each week in such a safe and supported environment. The freedom, connection and spaciousness I feel is something that money can't buy.  I leave after every session feeling rejuvenated and so alive, as if I have just walked out of the ocean! Everybody has to try this for themselves, it will change your life!!"
" I first came to Soul Space for the 6 week meditation course and couldn't get enough, so much so, I have showed up every Wednesday for the past year! I love it. I have found a place of stillness, joy and peace within myself that I didn't know was possible, until I started meditating. It's like every week we get to become archeologists and investigate our bodies in such a grounded and holistic way. Pure freedom of expression is invited and it's like a gym workout, therapy release session and deep relaxation session all at once. So grateful for this process in my lifestyle."
" Chris made it so easy, simple and accessible for me to me to look deeply into myself through meditation. His deeply grounded knowledge of the bodymind that he shares and the meditation practice itself, has given me so much insight and a deeper awareness of my body vehicle. In the past I have been quite self-conscious and often felt anxious to express myself in front of people – a great fear of mine.  Because I keep showing up each Wednesday in an environment where expression is encouraged ( very rare) and I'm allowed to completely let go and be myself without any judgement, I can feel my confidence and my ability to communicate has completely shifted in such a positive way. My sleep has becomes so much deeper and I am falling into solid routines over various parts of my life. Best investment I have made to date!"
For those interested in the chants we sing during the courses:
Ong Namo by Snatam Kaur
Asatoma by Kevin James
Save
Save
Save
Save
Save
Save
Save
Save
Save
Save
Save
Save
Save
Save
Save
Save