EMOTIONAL RELEASE BODYWORK CLINIC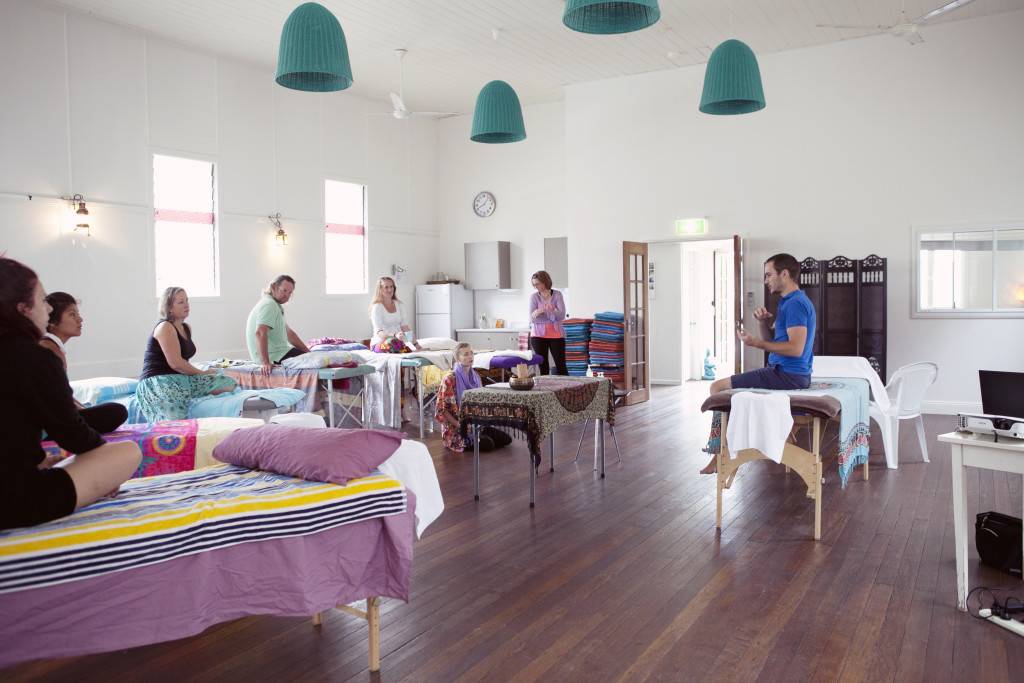 Prerequisite Training 
Participants must complete the Emotional Anatomy Training prior to attending the Emotional Release Bodywork clinic.
The aim of this Emotional Release Bodywork clinic is to provide students of the Emotional Anatomy Training with the opportunity to gain further precision and confidence when performing Emotional Release Bodywork (ERBW) and to develop various key massage skills to ensure a rounded and professional approach.
Students who want certification in PT:
This clinic is highly advised for those students who want to achieve their certificates in Emotional Anatomy Training but have no prior experience with massage or bodywork. As part of the log book requirements you are required to demonstrate competency in facilitating emotional release through trigger point therapy. This training is specifically designed to meet that requirement.
The Emotional Release Bodywork clinic will involve the following:
– Massage basics – draping, table set up, towels, etc.
– 35 Key emotional trigger points and techniques on how to treat them physically and emotionally.
– Introduction to understanding the functional anatomy of the muscles affected by e-motional trigger point.
– Revision on the mental and emotional connection of each point
– Massage techniques to prepare the body and specific emotional trigger points including: effleurage, petrissage, tapotement, when to use these techniques and why
The first 4 sessions will be practiced on students participating in the Emotional Release Bodywork clinic. For the last session (session 5) students will be required to bring a volunteer body, preferably someone who has experienced a BMA as part of the log book process.
Dates:
To be announced 
Time:
9am – 12noon

Location:
Soul Space Brisbane – 23 Parker Street Newmarket
Price:
$500 (includes gift of 1 x oil bottle + 1 sarong)
*see terms & conditions below
What to bring:

Check List:
1 x Massage table
1 x Oil bottle (included in first time student fee)
1 x Single size sheet
1 x Bath sheet (large towel)
1 x Regular towel
1 x Sarong (included in first time student fee)
1 x Pillow with pillow case (preferably a pillow you do not use)
1 x Water bottle (for drinking)
IMPORTANT: We need to be informed if you are unable to bring any of these items.
Wear comfortable clothing. We will be using our elbows, so do not wear a shirt with long sleeves or sleeves that need rolling up.
TERMS & CONDITIONS
*Payment Terms & Conditions
The Emotional Release Bodywork Clinic is $500.
Positions are secured on a first in best dressed basis.  Even numbers are required to facilitate the Emotional Release Bodywork clinic. If your payment creates an odd number in the group you are eligible for a refund.

Participant Cancellation & Transfer Policy
The Emotional Release Bodywork clinic fees are not refundable. Cancellations made within 1 month of the scheduled training are not transferable to another date. For cancellations made with more than 1 months notice may use their deposit or payment on the next available clinic but not thereafter. Thank you for your understanding.
Training Cancellation Policy
In the unlikely event extenuating circumstances occur such as sickness or bulk cancellations (we require a minimum of 6 participants to conduct the Emotional Release Bodywork) the training will be cancelled and postponed to the following semester. In this instance you are entitled to a full refund or a transfer to the next available clinic where applicable.