WORK WITH US – for Teachers
WHAT WE ARE LOOKING FOR
We offer a special ongoing rate for a select few who want to run their classes from Soul Space Brisbane with an ongoing commitment. For example, if you wanted to hire the Tuesday night slot every week for an ongoing class/course.
Our space is suitable for such disciplines as;
Yoga

Pilates

Meditation

Tai Chi

Women's Circles
Sound restrictions do apply. The early morning and evening slots are not suitable for loud music or dance due to the nature of our location. Send us your enquiring to assess your suitability.
We offer a unique opportunity for teachers looking to run their own business, taking care of their own client base with the consistency of regular space hire at Soul Space Brisbane. This is perfect for teachers who have gained clarity about what they offer,  want to run their own show and need a space that can match and inspire their vision. 
The following information is to provide you with a clear understanding of the nature of Soul Space Brisbane and who we are keen to work with. Your class could be offering such services as yoga, pilates, meditation, tai chi, dance, etc.

IMPORTANT:
The opportunity we are offering is for teachers who are looking for an inner City space to run their business on a space hire basis. We are not offering an employment opportunity.
WHAT IS ONGOING HIRE?
By definition, ongoing hire is hire of the space for a particular time slot, for the same time, every week with a minimum commitment of 2 months.  
For example: You wish to use the space for regular class/es every Wednesday 6pm – 9pm indefinitely.
After the initial 2 months you are invoiced invoiced monthly to keep your term of hire at a continual 1-month-in-advance schedule. If at any time you wish to cease ongoing hire at Soul Space Brisbane (after your initial 2 months) we require at least one month notice.
Full terms and conditions are available in our space hire agreement. Please contact Jodie to discuss.
WHAT TIME SLOTS ARE AVAILABLE FOR ONGOING HIRE?
Mornings:
Monday – Friday, 6am – 8am (2hrs)
Evenings: 
Monday – Thursday, 6pm – 9pm (3hrs)
WHAT SOUL SPACE BRISBANE PROVIDES YOU
THE SPACE (what we have available):
A large open naturally lit space for your classes (approx. 88m2).

Amenities including: 1 toilet, kitchenette, sound system, air conditioning and heating when required.

Yoga equipment: yoga mats, yoga chairs, bolsters, blocks, straps, blankets

Kitchenette facilities include: fridge, plates, glasses, mugs, cutlery, kettle, urn, tea & coffee.

WIFI internet access

Chairs

You are welcome to leave flyers or brochures about your classes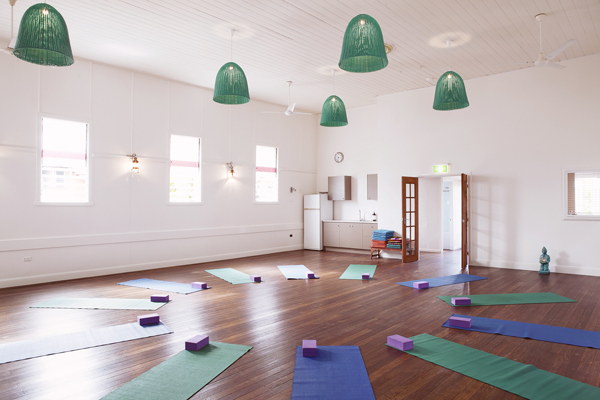 If this opportunity resonates with you please send us an email to hello@soulspacebrisbane.com.au including your phone contact details so we can call you to discuss further.
We look forward to hearing from you.
Save
Save
Save
Save
Save
Save
Save